Sheriff David W. Hunt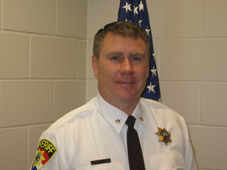 ​Sheriff David W. Hunt, is a native of Monticello, IL, and when elected sheriff in 2010, brought 27 years of law enforcement experience to the office.
After graduating from Monticello High School, Dave served six years in the United States Air Force as a Security Police Officer at Grand Forks Air Force Base and as a Security Police Officer and S.W.A.T. Instructor at Lockland Air Force Base.
After spending a short time as a corrections officer with the Pinellas County, Florida Sheriff's Office he spent six years with Johnson Controls at Cape Canaveral Florida as a Law Enforcement Officer, Supervisor and S.W.A.T. team leader.
Dave returned to Monticello in 1994 and spent 15 years in the Piatt County Sheriff's Office as a Sheriff's Deputy, Fire Arms Instructor and Investigator. Dave ran for and was elected Sheriff of Piatt County in 2010.
Chief Deputy Mark Huckstep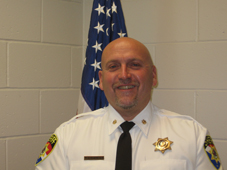 Chief Deputy Mark E. Huckstep, began his career in law enforcement with the Champaign County Sheriff's Office in Oct 1985. Mark spent six years with the Sheriff's office. He attended the University of Illinois Basic Corrections Academy and served as a Field Training Officer and Correctional Officer. He was acting Sergeant during his last year and one-half of his correctional duties. Mark was named Champaign County Correctional Officer of the Year, in 1988. In 1990, Mark was hired as a Patrol Deputy and attended the University of Illinois Basic Law Enforcement Academy.
Chief Deputy Huckstep was hired by the Champaign Police Department in Oct 1991 and retired from Champaign after 20 years of service in Oct 2011. Mark was a field Training officer for both patrol and Investigations. While a patrol officer, he served on special units including both uniform and plain clothes drug interdiction and served one year on the gang unit. He was a Hostage Negotiator for 12 years and served on, and is still actively involved in, the Central Illinois Stress Debriefing Team. He was named Champaign Police Officer of the Year in 1997. In his final 10 years on the force, Mark was assigned to Criminal Investigations. His specialty in investigations was in both adult and juvenile sex crimes.
Mark served as an adjunct instructor for the University of Illinois Police Academy from June 2000 through Nov. 2011. He instructed classes for Basic Interviewing, Criminal Investigations and Traffic Accident Investigations and was involved in the Morning Physical Fitness training for 10 years.
Mark began his career with the Piatt County Sheriff's Office, on Oct 24th, 2011 as Chief Deputy.  His duties as the Under Sheriff include managing Law Enforcement Correctional employees, Court Officers, tele-communicators and civilian personnel employed with the Sheriff's Office.
Jail Superintendent Karla Bell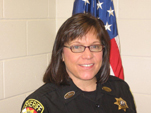 Karla Bell has been Jail Superintendent for the Piatt County Sheriff's Office since August, 2007. Prior to coming to Piatt County in 2007, Karla spent 22 years in various law enforcement positions in Delaware County, Indiana.
Beginning in 1985, Karla spent nearly four years as a part-time reserve officer for the City of Muncie Police Department and another six and one-half years as a full time reserve officer for the Delaware County Sheriff's Department.
From September 1989 to January 1991, Karla worked as a Jail Officer for Delaware County and attended the Indiana Law Enforcement Academy, Jail Officer training course.
In January, 1991, and for the next sixteen years, Karla worked for Delaware County Community Corrections as Community Service Coordinator, Work Crew Supervisor and House Arrest Surveillance Officer, until coming to Piatt County in 2007.